Description
The best upgrade for your bike . . . is the rider.
Our premier program, Enduro Ranch Level Up is a comprehensive training course that establishes the right habits for trail rides through hard enduro riding. Consistent weekly, professional training is paramount when it comes to improving skills, speed, endurance and safety. Kids and adults are welcome to join this comprehensive dirtbike and enduro training course for new, crossover and returning riders. 
Level Up consists of 5 levels. They roughly reflect the Beginner, Novice, Intermediate, Expert and Pro rankings you find in most racing series.  Beginning with foundational skills riders are trained to have control, balance and awareness. Even veteran riders (20+ years) will be challenged to break bad habits, start fresh and discover an entirely new set of skills to take to the trails. 
Based on 5 years of intense group and individual training, the Level Up program is designed to challenge and educate riders in key skill sets across a wide range of dirtbiking experiences. Utilizing a Rider Scorecard, participants repeat-to-complete specific skill challenges in order to check all the boxes on their way to leveling up. Graduating from Level 1, a rider must be capable of: controlling their bike punctually and with accuracy, feeling confident on just about any green or blue trail in Colorado, knowing the unwritten rules of the trail including preparedness, comfortable loading, unloading and maintaining their bike. And that's just Level 1. 
ACCELERATION | DECELERATION | BALANCE | TURNING | SUSPENSION LOAD & UNLOAD | TRAIL READINESS | MAINTENANCE
Riding Skills
Trail Readiness Methods
Maintenance Skills
High and low speed braking, clutch control, basic wheelies, shifting and braking for uphills and downhills, shifting while sitting and standing, skids and slides, sitting and standing flat, berm and banked cornering, on-trail troubleshooting, roots, rocks and whoops, bike loading and unloading, etc., are all a part of the program. Advancing riders are exposed to and have the opportunity to learn splatters, double-blips, step ups, line choice, efficiency, health and fitness. Our goal is to help you master each skill and keep progressing. 
"Practice Makes Permanence."  ~Coaches
Unlimited Attendance: (40+ total sessions)
Weekday Training Sessions – Wednesdays 4 – 6PM  April 10 – October 16:  Thunder Valley Park (6pm-dusk June through August)
Saturday Training Sessions – Every Other Saturday 10:00 – 3:00  April 6 – October 19:  Thunder Valley, IMI Motorsports Park, Rampart Range, RAM Off-Road Park, Webster Pass
Ride Days – Every Other Sunday
No classes or Ride Days:  4th of July weekend, Memorial Day
Package Includes:
Annual Membership (1 FULL YEAR based on your Sign Up Date)
Owner Bike Storage*
Site-to-Site bike transport*
Free Youth Bike Rental* (up to 60 calendar days)
Adult Bikes Available* (free up to 45 calendar days)
Free Ride Days**
Level Up Tee
Sticker Pack
Graduation Gift Pack
15% Discount on any Premier Trip, Event or Product
Returning Member Discount – Contact us for Coupon Code
Upgrade Your Package
Owner Bike Storage and Transport* – We'll bring your bike to every scheduled occasion. $850/yr

Bike Transport
Storage
Fuel
Periodic Cleaning
Maintenance Check

Tune Ups – Keep your bike it tip top form with a routine Tune-Ups: $450/yr

Maintenance Check
Oil Changes
Tire Changing (tires not included)
Battery charging
Fuel

Competitive Edge – Join Enduro Ranch in your choice of 3 trials and/or enduo events: $750/yr

Trials Competition – Compete in 3 RMTA Events
Enduro – Compete in RMEC Events
Special Ride Day training sessions
Includes 2 Team Jerseys
Race Introduction

Class selection
Registration information
Timing and Scoring
Health Prep

Race weekend support – We'll be there for you all the way

Race day prep
Bike & equipment modification
Race weekend repairs (as much as we can)

Does not include RMEC, RMTA membership or entry fees
**Ride Days are included for all riders. Use of Enduro Ranch bikes are based on availability with respect to First Timers bike needs. In general, we always have youth and adult bikes available.
Annual Membership – Regardless of when you sign up, you'll get a full season of training. So, if you start in October, you'll be a member until October. It takes about a year to really learn how to ride, the basics. Year two and beyond it's about applying those skills, gaining confidence and increasing your speed.
Our goal for each Level Up Rider is to provide consistent opportunities to practice a wide variety of skills. Programatic training makes good habits and inspires riders with the confidence to venture out with others or on their own, making good decisions about their limits. Experience the freedom of riding dirtbikes in a variety of locations on Ride Days across the state on a wide variety of terrain. From managing beginner trails to nailing a double-blip over logs and ledges, the Level Up program will help you ACHIEVE YOUR GOALS!
Private Instruction or First Timers are both options to help you enter the sport with the right information. And they'll will give you plenty of techniques to work on. But, how much you practice vs. ride is up to you. Some people learn to practice while they ride, others try to 'go fast' almost to the extent of being 100% reactionary. The former, a focus on technique and control, will provide a means of consistently gaining skills and naturally increasing speed. The latter, a somewhat terrifying trial and error exercise. 
Approach the trails feeling safe, more confident and capable . . . LEVEL UP with Enduro Ranch Ltd.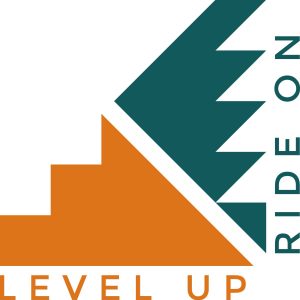 Train like a champion, ride like a pro.
Level Up with Enduro Ranch