Now playing in Peach Valley and the Wet Mountains.
Peach Valley & the Adobes
Join us at Peach Valley OHV, one of the best recreational areas of Colorado featuring its own enduro-cross training area, miles of single track and open terrain of the Adobes. Diverse terrain and open riding abound near Montrose, a town which is rapidly becoming one of the most sought after adventure destinations in Colorado. Options to add on fly-fishing, rafting, or climbing are available if you are looking for assorted outdoor recreation activities, and you are short drive from Grand Junction or Moab if you want to ride more on your own.
St. Charles in the Wet Mountains
"Who are you going to take to St. Charles?" That was the response from a Colorado expert who's tackled the switchbacks on an up. Expert riders looking to break new territory need this trip! Enduro Ranch is pleased to announce we are the first company to be permitted access to the St. Charles district of the San Isabel National Forest. Nestled among the Wet Mountains, Spanish Peaks, and the Sangre de Cristo mountain ranges, these trails are remote and untraveled. You won't find any breaking bumps on these intense, RAKING (?) SWITCHBACKS (I couldn't read my notes) We'll travel through wetlands, over mountain passes and…. Also included in this wild ride is a trip Bishop Castle, the modern-day obsession of one man intent on building his own castle, stone by stone, over 60 years.
Westcreek / Divide / Rainbow Falls
Located close to Denver, Colorado Springs and Summit County, this place delivers the goods for Beginners, Intermediates like nobody's business. We're not saying there's not advanced terrain, or that you can't get yourself in plenty of trouble. But the rolling hills, wide tracks and high visibility make Westcreek-Divide and ideal place to stretch your legs and build some confidence. Rainbow Falls delivers with some steep climbs and twisty downhills as well as a perfect place for first trail rides. 
Seasonally, this area doesn't see a lot of snow or rain and is almost always good to go. Let us show you around and we'll guarantee you'll feel good about getting back out to this well maintained, fun and inviting place to ride dirtbikes. 
Let's get you out for a ride.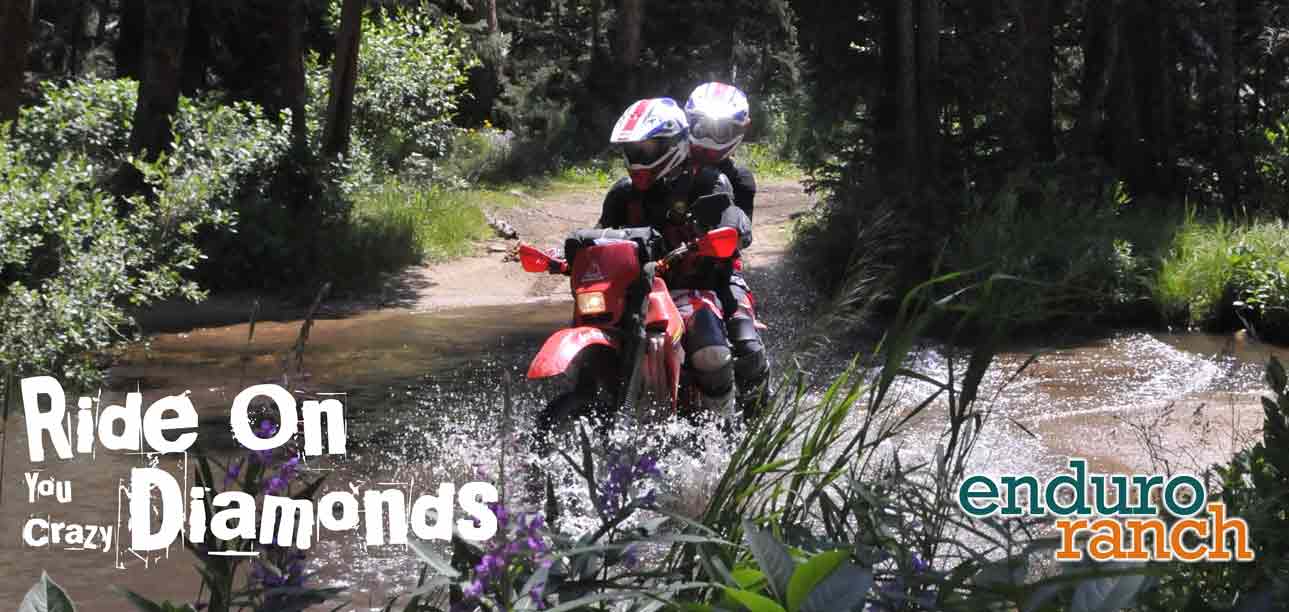 Coming Attractions
We've got permit requests in several new areas for 2019. Shoot us an email and we'll keep you posted. In Colorado each forest service district permits their area individually. And, permits are only given once per year. If that date is missed, well, then we all wait a year. And, thus we look forward to continuing to bring you legit rides by First Aid Certified Guides with valid USFS guiding or events permits. Enduro Ranch is also fully insured for the protection of the USFS, EnduroRanch Ltd., and you.
We'd love to hear where you'd like to ride in Colorado. We've started a Hotlist (below). If you'd like to add a location leave it in the comments or please, call 720.355.1676 or email and let's get your ideal ride on the books.
Looking forward to riding with you!
Mulit-Day Guided Rides in Colorado
Here's what we're thinking thus far for our local areas.
Sargents / Tomichi Creek near Salida: 500+ miles of trails including the Rainbow and Colorado Trail
Ouray / Telluride: Connecting towns via some of Colorado's most scenic country.
Eagle to Basalt
Aspen to Crested Butte
And then there's Utah.
Don't see the spot you want to ride here? Give us a shout or leave a Comment.
Let's get you to the kind of ride you want.
Fill out the information below and we'll be sure to get back in touch with you asap. Or you can just give a call (970)315-2616.