Classes | Camps and Clinics
Enduro Ranch provides group or private 1, 2 and 3-day dirt bike summer camps and clinics for kids, teens and adults. 
1-3 Day Programs
Progressively putting your new skills into action on the trial. 

The experience of Enduro Ranch's unique and individualized attention within group lessons or private instruction will give you confidence as a rider and peace of mind as a parent or partner.
Training for off-road motorcycle trails, recreation, dual sport or enduro racing is an ideal way to learn how to have:
better control
feel safer
ride with more awareness
ride longer
And, you'll likely increase your speed, efficiency and endurance.
Class Locations: Denver, Peach Valley, Rainbow Falls & Westcreek/Divide (near Woodland Park)
Private Instruction Locations: Private property, Denver, Peach Valley, San Isabel, Rainbow Falls & Westcreek / Divide (near Woodland Park)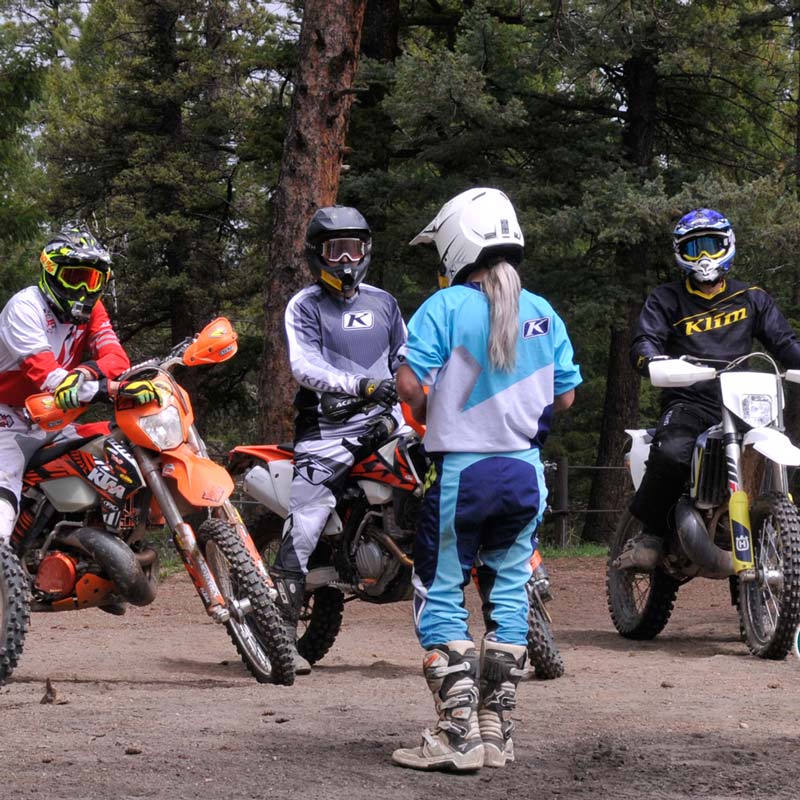 We get you from here . . .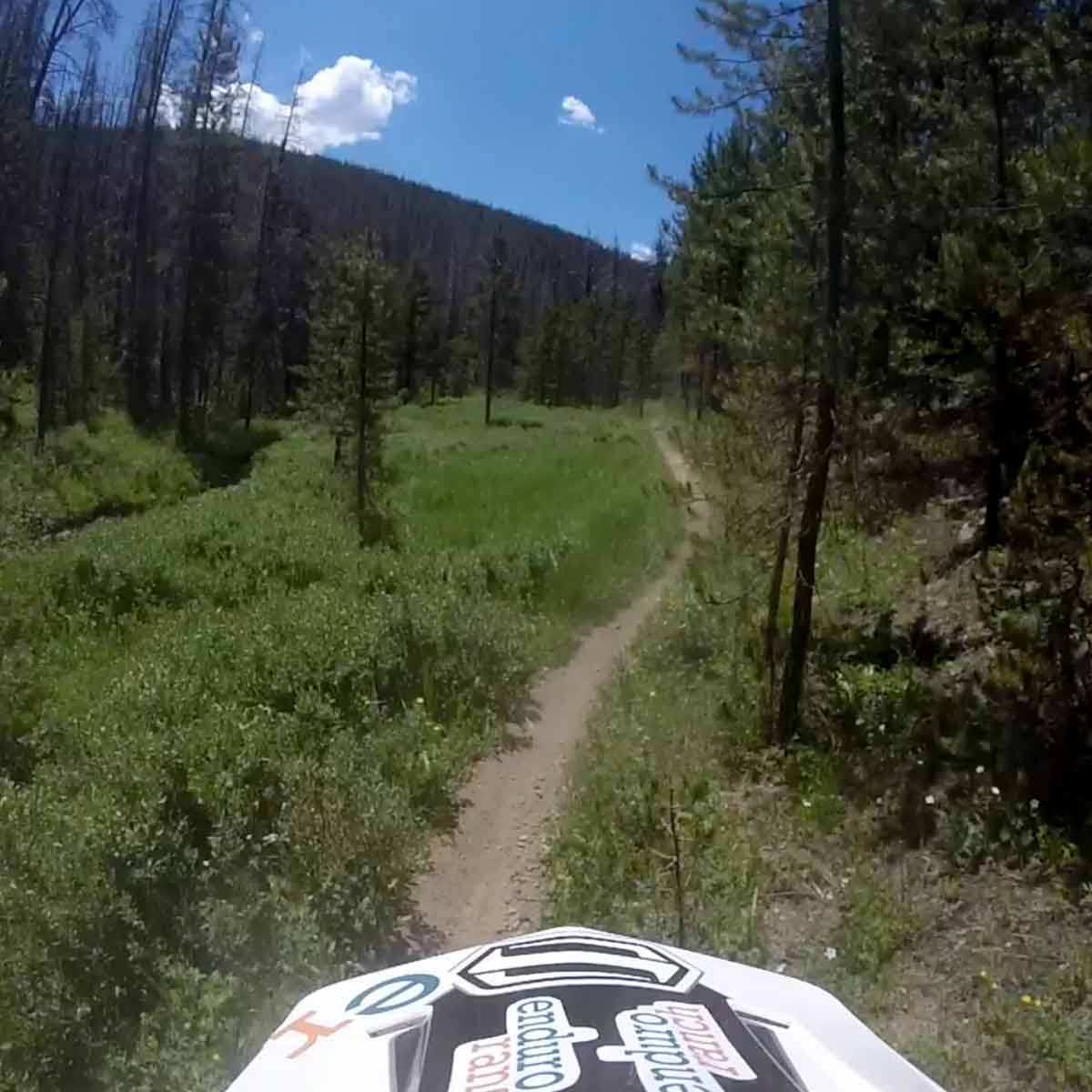 Learn control skills and techniques that can be applied to on the trail experiences. 
Ride trails with your new techniques feeling confident and safe. 
The 3-Day program provides the best opportunity to gain new skills, practice, them on Ride Day! at one of our safe, scenic and challenging locations. We're committed to working with every rider to achieve their dirtbike goals. 
2019 Dirtbike Lessons Schedule
Beginners
If it's your first day or you're just getting back into riding after a hiatus, these classes are guaranteed to have you feeling well equipped, tired and smiling.
If you need a bike
We supply kids bikes and equipment as part of the class. 
Adults can quickly and easily get outfitted with our partners at Extreme Rentals. 
We'll pick up adult rentals and have them ready and waiting at the Thunder Valley training area.
And, we'll keep all rental bikes overnight for multi-day classes. 
That's it!
If you've got your own bike
Right on! Just show up at 9:30 with your bike, get your gear on and throw a leg over.
We store kids bikes overnight for free. 
And we'll hold onto adult bikes for an additional $25. 
If loading and unloading is daunting, we're always ready to lend a handle it.
No sweat.
Beginner Dirtbiking 3-Day
3-Day Beginner Dirtbiking puts an emphasis on trail riding time. In fact Day 3 is almost entirely on the trail. We'll cover a few miles, see some sights, learn a bit about the Colorado National Forest and make good memories.
July 30- August 1 (Tuesday-Thursday)
Call for September and October class options. 
Beginner Dirtbiking 2-Day
A 2-day beginner or novice dirt bike riding program that introduces riders to the essential techniques of motorcycle off road riding and the nitty gritty of how to progress at riding a dirtbike.
Call for Fall Class availability. 
Beginner Dirtbiking 1-Day
A 1-day course that will provide you with the opportunity to learn good habits, prepare you for tricky situations and give you confidence in your abilities. You may show up with an hour or hundreds of hours of experience. You'll leave with a better understanding of how to ride.
June 7 (Friday) – ADULT
First Timers (Saturday) – All ages
What riding gear do we need to have?
For dirtbiking we typically say the minimum is helmet, eye protection, boots and gloves. That said, you don't need your own. We have a some of these items and what we don't carry you can rent from one a number of local rental shops. And, if you're in for buying new gear, let us know. We'll make sure you get a discount at your one of our preferred vendors.
How experienced do I need to be?
Whether it's you or your kiddos, or the lot of ya, we work with any experience level. Ok, you need to be able to ride a bicycle. That seems fair enough. Beyond that, our Beginner Dirtbiking courses for Youth and Adult are just your ticket to ride.
Are bikes included in the price?
For kids, Yes.
Adults, if you're new to dirtbiking and have yet to have your own, no worries. We work with a number of rental companies and likely one in your area. Check the Resources page for a list of places that rent bikes and gear.
Beginner 3-Day
Instruction 1%

Free Ride 99%

Free rentals for kids

Overnight dirtbike storage

Transportation to the trailhead

On trail experience

Picnic in the pines
Beginner 2-Day
Instruction 50%

Free Ride 50%

Overnight dirtbike storage

Free rentals for kids

Transportation to trailhead 
Beginner 1-Day
Instruction 80%

Free Ride 20%

Free rentals for kids
Parent's often join the fun. Whether you decide to take separate courses or learn together as a fam, you're welcome to stick around and watch your kids ride. Or go for a hike, run errands or head back to work. You're kids are good with us from 9:30-3pm.
For those in our 3-Day courses, Parents (not friends) welcome to drive to the trailhead at Westcreek, Divide or Rainbow falls, or, we'll load up the munchkins on Day 3 and transport them to the moon and back.
Day 1 & Day 2 – Pickup and drop-off at Thunder Valley Park 9:30-3:30
Day 3 – Pickup and drop-off at Thunder Valley Park 9:30-5:30
Don't waffle. Sign up and ride!
Intermediate Dirtbiking is for trail riding, enduro and enduro-cross enthusiasts who have never had formal training, feel like they've plateaued, are running out of energy too quickly or want to prepare themselves for competition. You'll practice on progressive obstacles and terrain at our exclusive enduro park designed to let you try things for the first time and progress rapidly.
Crossover Clinics
Transitioning from street to dirt? Prepping to ride Colorado Backcountry Discovery Route (COBDR) and need some training? Good on ya! This course will definitely provide techniques that you can work on every time you throw a leg over. An intensive day 1 of a much bigger map of riding your adventure or dual sport bike. Join the fun!
Guided rides are the best way to discover a new area. Call or email for a custom plan or check out our Rides page for upcoming events.
Rentals
Motorcycles – Rent a kids dirtbike from Enduro Ranch when you're taking a lesson.
Equipment – We have a variety of sizes for kids including helmets, googles, gloves, elbow pads, knee pads, boots and pants. Just shoot us an email or call for more details.
Rides Custom Programs
Don't see what you're looking for? We can tailor a class to your needs.  Just call or email.